Most of us consider our pets as part of the family. Why wouldn't we want to pamper them with healthy options when it comes to their beloved treats. I know our dog, Mr. Biggelsworth, worked hard for his treats throughout the day. And I know I want to reward him for all that hard work, but I would much rather give him something that I know is good for him. There are puppy treats out there that are geared towards a dog's health, but that comes with a high price tag too. Mr. Biggelsworth deserves healthy yummy treats made with love.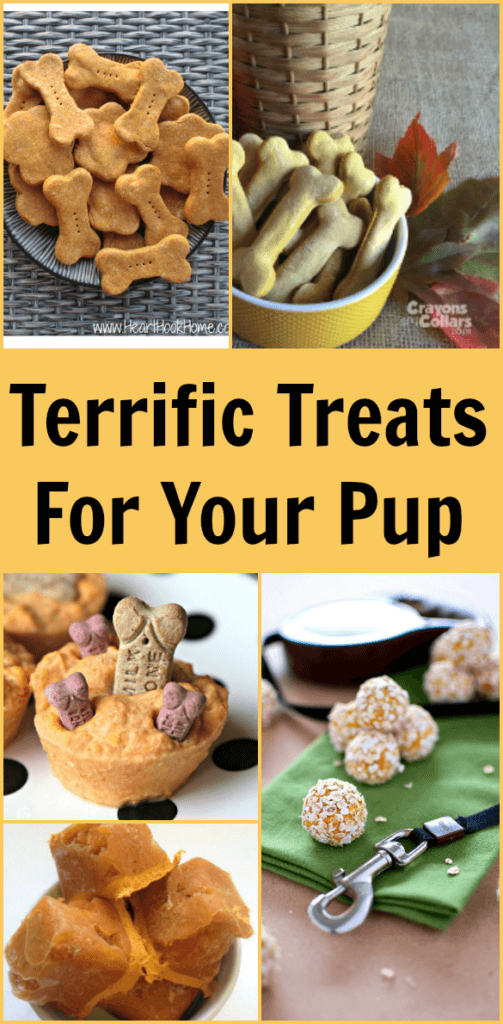 To help me with finding the perfect recipe for our pup I began searching the web. Here are the top 25 that I found in my search. Each recipe has its own unique ingredients, unique process of making, and best of all some show off their furbabies in photos! LOVE furbaby photos! Many are were chosen for a "Thanksgiving" theme and use those kinds of ingredients, but in today's world, all the ingredients are sold year round in one form or another.
1. Homemade Pumpkin Dog Treats from Crayons and Collars.
2. Homemade Turkey and Sweet Potato Meatball Dog Treats from Pet Coupon Savings.
3. A Special Treat for your Furry Friends: Pumpkin Oatmeal Dog Treats Recipe from Lily the Wandering Gypsy.
4. Homemade Peanut Butter Yogurt Dog Treats from Play Eat Learn.
5. Pumpkin Peanut Butter Dog Treats from Fake Ginger.

6. Homemade Cran-Pumpkin Peanut butter Oatmeal Homemade Dog Treats from The Cottage Market.
7. Homemade Grain Free Apple Cinnamon and Pumpkin Dog Cookie Recipe Perfect for Thanksgiving Day from K9 Instinct.
8. Cranberry Orange Shortbread Cookies from Budget Meals.
9. Turkey Dog Treat Recipe from Canine Journal.
10. Bries Turkey and Cranberry Dog Bones from All Recipes.

11. Healthy Homemade Dog Treats from Brend Did and You Can Too.
12. Recipes for Pet Treats: Pumpkin Pie Biscuits from Dog Treat Kitchen.
13. Easy Thanksgiving Treats for your Dog and a Cat Pumpkin Smoothie from Modern Dog Magazine.
14. Pumpkin Apple Dog Mint Treats from Damn Delicious.
15. Sweet Potato Dog Treats from Ledford Life.

16. Homemade Dog Biscuits from Martha Stewart.
17. Yogurt Frozen Dog Treat Recipes: Pumpkin, Yogurt, and Banana from A Magical Mess.
18. Recipe: Super Simple Thanksgiving Dog Recipes (cookies) from Dalmatian DIY.
19. Homemade No Bake Dog Treats: Pumpkin Oatmeal from Two Little Cavaliers.
20. Turkey Cranberry Dog Treat Recipe from Dog Tipper.

21. Pumpkin Dog Biscuits from Food.com.
22. Thanksgiving Dinner Dogs from The Bark.
23. Thanksgiving Turkey Dog Treats from At The Fire Hydrant.
24. Turkey Meatloaf for Doggies and Other Thanksgiving Treats from Travel Dog Books.
25. Thanksgiving Recipes for Furry Family Members from Barking Lot Inc.
Do you have a favorite pet treat recipe you would like to share? Or a favorite website you frequent? We are always on the lookout for new things to reward our puppy with.