One of the things that most of us struggle with is finding time. Our house is always bustling with activity which makes it difficult to find time to cook.
This Cheesy Sausage Biscuits recipe is an easy one that can be thrown together in mere minutes using only a handful of ingredients. The best thing is even the kids can put this all together while I work on other parts of a meal.

I have used this usually as a side item when we have chili, soup, or a stew. Really it can be used at any time. I have made these Cheesy Sausage Biscuits for breakfast one morning that a snowstorm had halted the days activities.
Ingredients:

16 Ounces Medium Cheddar Cheese
16 Ounces Pork or Beef Sausage
2 Cups Jiffy Mix
¼ Cup Milk
Cooking Spray
4 Ounces Butter
Directions:
Thoroughly cook/brown pork or beef sausage- drain or pat with paper towel to remove excess grease. Melt butter for 30 second intervals in a separate bowl until liquid. Mix all of the above ingredients into a large bowl, including the melted butter. You can reserve some of the melted butter to brush on the tops of the biscuits after they bake.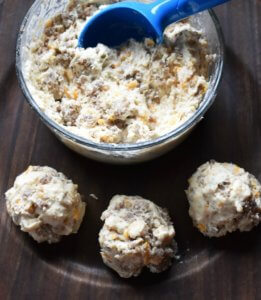 Spray cooking spray onto ice cream scooper. Use an ice cream scooper to form balls. Continue to shape the mixture to form balls using the palms of your hands. Spray baking sheet with cooking spray.  * Please note dough mixture will expand after baking * Bake for 15- 20 minutes or until golden brown.
While I have made the Cheesy Sausage Biscuits many times, I have yet to try and freeze it. I am thinking of experimenting with attempting to freeze the dough for later use. Hopefully I can do this soon and share the results. Either way these biscuits are very easy to make. I wonder what other ingredients I could add to the basic recipe to change it up a bit. If you have any suggestions I would appreciate if you could share in the comments below.