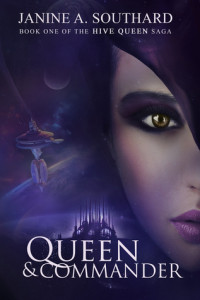 BOOK ONE:
Queen & Commander by Janine A. Southard
(Hive Queen Saga #1)
Publication date: May 2014
Genres: Science Fiction, Young Adult
Synopsis:
**WINNER 2013 IPPY AWARD — Silver Medal for Best Sci-Fi/Fantasy/Horror E-Book**
On a world where high school test scores determine your future, six students rebel. They'll outrun society as fast as their questionably obtained spaceship will take them.
Rhiannon doesn't technically cheat the Test. She's smarter than the computers that administer it, and she uses that to her advantage. She emerges from Test Day with the most prestigious future career possible: Hive Queen.
Gwyn & Victor are madly in love, but their Test results will tear them apart. Good thing Rhiannon is Gwyn's best friend. Rhiannon can fix this. Queens can do anything.


Gavin is the wild card. Raised off-planet, he can't wait to leave again… and he's heard of an empty ship in orbit. The Ceridwen's Cauldron.
Both Luciano and Alan fit in the system. They don't need to leave. Only their devotion to Rhiannon spurs them to join the Cauldron's crew.
Spaceships. Blackmail. Anywhere but here.
BOOK TWO: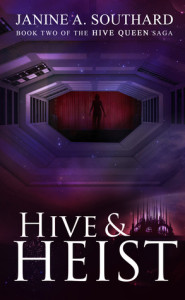 Hive & Heist by Janine A. Southard
(Hive Queen Saga #2)
Publication date: May 2014
Genres: Science Fiction, Young Adult
Synopsis:
Queen Rhiannon and her Hive have found safety on John Wayne Station, but with no way to pay their docking fees or Victor's medical bills, their debts are racking up quickly. Thankfully, Gavin gets a job with American Space Ranger M3L-15-A, who's hot on the trail of dangerous criminals.
The teens move in with their Ranger benefactor, but when they revisit their ship to pick up personal belongings, they realize their Alcubierre tensor jet has been stolen!
If Rhiannon and her Hivemates ever hope to leave, they must find and steal back what's theirs.
But far from home and among strangers, who can they trust? Will they be stuck on John Wayne for the rest of their lives?
Purchase book 1:
Purchase book 2:
My View:
Please keep in mind that Hive & Heist is not a stand alone book, you do need to read these in order. I didn't get to far into the first book before I began relating the characters to my teens, meaning that the group leaves without thinking how in they will be able to take care of themselves.
Each book develops into a a wonderful story, with rich characters that are easily related too. I found myself having to use my imagination a lot, in order to fully see the scenes in my mind. Being able to watch how this group survives and connects to each other, makes this such a joy to read.
While some may struggle with the book being slow in some spots, you just need to stick with it to get the full benefit of each book. The second book picks up where the first stops, which eases the transition of beginning another book.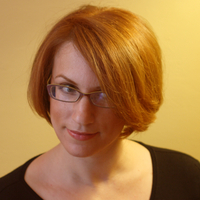 AUTHOR BIO
Janine A. Southard writes and edits speculative fiction in between working on videogame projects. She's attended more than the average number of universities, which she claims is a FEATURE. ("Oxford educated, but Californian at heart.") She's also lived and traveled in Europe, the United States, and Japan. Currently, she lives in Seattle with a husband (and a cat) and sings with a Celtic band.
-3 x Signed copies of both books in the Hive Queen Saga
–1x ebook copies of both books in the Hive Queen Saga + an unrelated novella