Welcome to the Trick or Treat Prizes Event Group Giveaway. Our-Wolves-Den is helping Mommy's Playbook and many other fantastic blogs share their group giveaway full of awesome prizes. One very lucky winner is going to claim it all. Good luck to all whom enter!
Mommy's Playbook is celebrating Halloween early this year with a fun Trick-or-Treat Giveaway event! One grand prize winner will receive some spooktacular prizes! Learn more about them and enter on the easy giveaway form below!
Happy Halloween from my skeleton to yours!
ENTER TO WIN a Halloween Print Simmer Pot from my favorite Pink Zebra independent consultant! Stick your nose in this pretty little Sprinkles cauldron overflowing with spooktacular whimsy. The base sports a sassy chevron design and the dish features iconic Halloween characters. Just fill your cauldron with your favorite Pink Zebra Sprinkles and wait for the magic to happen! Within moments your home will smell so delicious you won't need to "borrow" any candy from the hidden Halloween stash!
Why PZ Wax Sprinkles? Pink Zebra developed Soft Soy, a proprietary blend of eco-friendly soy wax and dependable food-grade, paraffin wax to capitalize on the best performing components of each. Compared to traditional waxes, Soft Soy maximizes fragrance, burns cleaner, is gluten-free, protected by anti-oxidants and UV inhibitors, AND comes from soybeans grown in the USA! Join Amber's Facebook group to learn why PZ is different than what you might be using today, AND find out how you can get some free samples!
Visit Amber's Pink Zebra page learn how to host your own party and win some fantastic host prizes!
ENTER TO WIN Gramma in a Box! Our lucky trick-or-treat winner will receive two months (Nov. and Dec.) of Gramma in a Box kits! Have you ever wished your kids could have an effortless day decorating and baking without spending hours searching Pinterest, shopping, and prepping? OR are you a grandmother who lives away from your grandchildren? Gramma in the Box is your solution! Gramma in the Box delivers to you a fun filled box of treats to make with the kids. Your box includes almost everything you need to make and decorate up to twenty cookie and candy treats, including fresh homemade cookies, a variety of sprinkles and colored frosting, two easy candy crafts, detailed instruction sheet with photos, as well as decorating ideas.
Can't wait until you win? Awesome!!! Visit Gramma in a Box to signup! ORDER BY NOVEMBER 3RD TO RECEIVE THE NEXT BOX. Subscribe to auto debit, 3 month prepaid, 6 month prepaid or 12 month prepaid and save 10% — no coupon code needed.
ENTER TO WIN Magna-Tiles® Treasure Hunt from Ravensburger! Ravensburger is a leading producer of puzzles, award-winning board games, and engaging science, and arts and crafts kits. Their latest Magna-Tiles® game, Magna-Tiles® Treasure Hunt, combines the power of play with hands-on learning and creativity! Children collect golden coins in Jungle Treasure, act like a monkey in Island Race, or create their own game by making new rules! It's THREE games in one! Magna-Tiles®: Treasure Hunt is a great first game that grows with your child and encourages fine motor skills, imagination, social development, and more! This great game comes with genuine Magna-Tiles® that can be mixed and matched with other Magna-Tiles sets!
Visit Ravensburger to learn more about Magna-Tiles® and the complete Ravensburger Brands lineup! Look to Ravensburger for children's puzzles, photo puzzles, Science kits, arts and crafts, award-winning games, family games, and MORE!
ENTER TO WIN a TickleMe Plant Zombie Plant Kit, Party Favors, or Seeds! Let the Halloween fun begin!! Kick off your Halloween with your own "army of zombies" around the house! TickleMe Plant offers a Zombie Plant Grow Kit, Zombie Plant Party favors, and Zombie Plant Seeds that are to die for! The Zombie Plant is a natural plant with naturally fun behavioral traits. It even produces brain-like flowers! It instantly "PLAYS DEAD" when touched or stimulated it in some way. Your kids are going to wake up everyday excited to see how their Zombie Plant is growing!
Visit TickleMe Plant to learn more about raising your own zombies this Halloween!! Use Coupon Code to Save BIG! Save $4.00 with the Code playbook!
ENTER TO WIN a Winning Moves USA Prize Pack! One lucky winner will receive Large Print Tile Lock Scrabble®, Pass The Pigs®, No Stress Chess®, and 13 Dead End Drive™. If you are staying home this Halloween, the Winning Moves USA Prize Pack is a must-have to fill your family's evening with the best family night ever! You will have such a wonderful night playing all of these fun games you might even skip trick-or-treating next year to stay in and play too!
Winning Moves USA is a leading maker of board games, card games, and puzzles. Visit Winning Moves USA online to find the latest games for 2020 AND a few of your childhood favorites!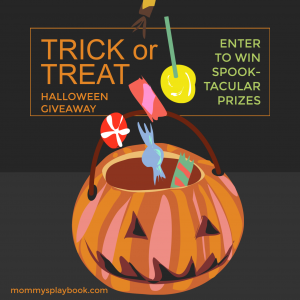 ENTER TO WIN!
Pink Zebra Simmer Pot, Zombie Plant Grow Kit,
Magna-Tiles® Treasure Hunt,
2 Months of Gramma in a Box, AND a Winning Moves Prize Pack

The giveaway is open US Only, 18+
The giveaway ends 10/25 at 1159 pm est
Be sure to come back daily for more chances to win.
Mommy's Playbook Giveaway Rules: This giveaway is Sponsored by all of the Halloween Giveaway brands listed within the giveaway article and hosted by Mommy's Playbook. Victoria and/or Mommy's Playbook, Participating bloggers, are not responsible for prize fulfillment. By entering this giveaway you are giving the giveaway host and/or event sponsor permission to retain your email address for future communication, you may choose to opt-out of such communications at any time. This giveaway is not sponsored or endorsed by any social media outlet including, but not limited to, Facebook, Instagram, Twitter, and Pinterest. Please contact Victoria (at) MommysPlaybook.com regarding any questions you have pertaining to this giveaway.