Audition for Murder(Maggie Ryan 1967)
By P. M Carlson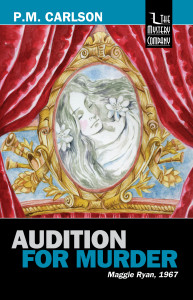 Actors Nick and Lisette O'Connor need a change. They leave New York City for a semester as artists-in-residence at a college upstate, where they take on the roles of Claudius and Ophelia, two of the professional leads in a campus production of Hamlet.
Threats and accidents begin to follow Lisette, and Nick worries it might be more than just petty jealousy. Maggie Ryan, a student running lights for the show, helps investigate a mystery steeped in the turmoil of 1967 America.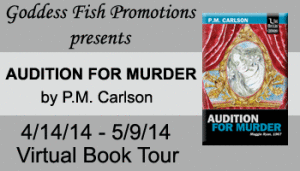 "It's a triple pleasure, a sophisticated theatre story, a knowing campus tale and a topnotch suspenseful mystery, with excellent characterizations and honest plotting." — Judith Crist
"An extremely well-written tale, with a plotline that offers a jolt per page." —     CF, Booklist
"Very literate, sprinkled with surprises and offering that rarity of rarities — fully fleshed out characters." — Bob Ellison, Los Angeles Daily News
Excerpt:
New York City, late 1960s
Nick O'Connor put down the telephone, his broad, muscular body sagging a little. So she hadn't been merely tired. Hell. He changed to worn jeans and his old leather jacket, and made a mean face at the mirror. Nick the hustler tonight. Man of a thousand faces, said his agent, and every one of them homely. A regular one-man Dickens novel. Nick headed out for the West Forties.
The snow was not sticking much. It made the sidewalks shine darkly, splashed with gold and rose and white reflections from bars and street lamps, and pasted down scraps of paper that otherwise would be scuttling across the streets in the bitter wind. His way led past whores, pushers, tired old men huddled over warm grates. Without a hurt, the heart is hollow. No hollow hearts on this street.
Franklin's place was halfway down the block. A worn brass door handle, chipped paint. Nick wiped a few snowflakes from his thinning hair and pushed through the crowd to the end of the bar. In a moment the bartender, black, with a trim mustache, had worked his way down to him.
"Hey, man, where ya been?"
"Yeah, I was working tonight. I just heard."
"Hey, we can't all be self-employed minority success stories."
Franklin chuckled. "You watch your honky mouth." He went off to break up a loud argument about whether or not the Vietcong were winning, served a whisky, and returned to Nick.  "Room B", he said.
About The Author:
P.M. Carlson taught psychology and statistics at Cornell University before deciding that mystery writing was more fun. She has published twelve mystery novels and over a dozen short stories. Her novels have been nominated for an Edgar Award, a Macavity Award, and twice for Anthony Awards.
Two short stories were finalists for Agatha Awards. She edited the Mystery Writers Annual for Mystery Writers of America for several years, and served as President of Sisters In Crime.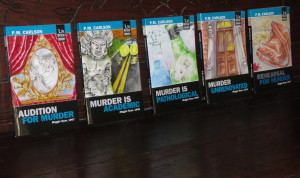 Purchase links (print, Kindle, Nook, other e-books): Crum Creek Press Shop 
P.M. Carlson will be awarding a $50 Amazon GC to a randomly drawn commenter at every stop during the tour. So be sure to follow the tour and comment on each stop-the more you comment the more chances you have to win. Head over to view the full list participating.